Connecting your laptop to a Blackmagic eGPU can turn it into a graphics powerhouse
Overall: 8
The new Blackmagic eGPU from Blackmagic Design is a companion product to the MacBook Pro and other laptops.
It is designed to provide the video processing horsepower needed for editing videos or playing graphics-intensive video games on smaller, less powerful laptops.
Turn-ons:
1. Speedy video editing performance
When using it to work with DaVinci Resolve – an industry standard in colouring feature films – I'm able to plug in my laptop and feel like I'm using a desktop.
2. Timing saving
Rendering video files can shave seconds to minutes off – which all add up when working on big video productions.
3. A quiet performer
It's like a ninja sitting at your desk; it's speedy and stealthy.
4. Consolidation
Having a desktop computer in addition to your laptop may become a thing of the past, now that the limitations imposed by having a weak graphics card on your laptop can be resolved in a plug-and-play manner.
Turn-offs:
1. Render times are quicker on Adobe software, but there is not much noticeable improvement on other processes such as file playback and management.
Hopefully Adobe will adapt its software; but currently, it relies more on your CPU.
2. The video card is not upgradeable, although an 8GB video card is great for working with 4K video.
3. At about 10 pounds (4.5kg) in weight, the Blackmagic eGPU is a bit on the heavy side.
Review: Razer's sound system beats those of other high-end phones
I normally use my laptop when I travel and my desktop when I am at home because my desktop is faster and has more storage. Although there is always cloud storage, it is still inconvenient to have to keep track of two computers.
I would love to get a 13-inch MacBook Pro so I could carry it around for my writing, but I have always had to use the 15-inch model because I need a graphics card to edit videos.
That is why I was really excited to try the Blackmagic eGPU – a docking station with an HDMI port, two Thunderbolt 3 ports, and four USB 3.1 ports – which is easy to plug in to your MacBook Pro.
What is an eGPU, and what does it do?
Much like a plug-in external hard drive for increased storage, an eGPU is an external video card peripheral you can plug in to your laptop for increased graphics performance.
Smaller 11-inch and 13-inch laptops generally have a built-in graphics card, which has a hard time playing videos and games.
Many 15-inch laptops do have a separate, discrete video card, but even the high-end models typically only have 4GB of RAM.
But the BlackMagic eGPU lets you utilise 8GB of video RAM with its AMD Radeon Pro 580.
By comparison, the iMac Pro has 8GB and 16GB video RAM options for its AMD Radeon Pro Vega series video card.
How is it for video editing?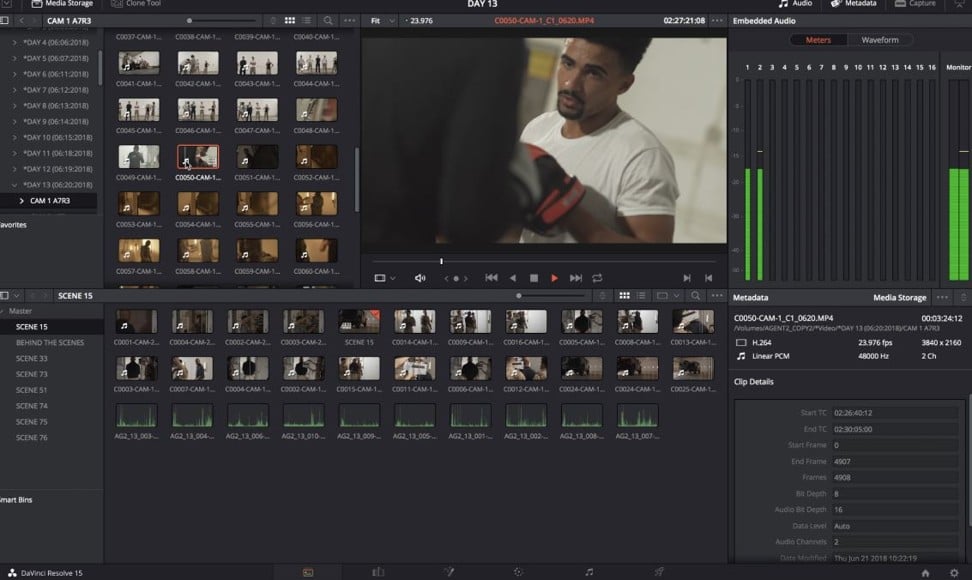 It definitely speeds up the render times in both Adobe Premiere Pro and DaVinci Resolve, which can be a huge time saver.
Adobe Premiere Pro does not seem to utilise the eGPU in terms of 4K playback and file management, which is a huge disappointment.
Recently Blackmagic Design released DaVinci Resolve version 15, so for this review, I tried editing with DaVinci Resolve and found the experience significantly smoother than when I last tried, using DaVinci Resolve version 11. And that's where the eGPU really shines.
When using DaVinci Resolve – which makes sense since Blackmagic Design, like Apple, designs the hardware and publishes the software that uses it.
I work with colourists in DaVinci Resolve – the industry standard for feature films – and the big pain in workload is when you are converting all the footage from other editing software in your timeline, sometimes thousands of clips.
Yet with this new type of set-up, I'm considering using DaVinci Resolve 15 on my laptop to edit in the field and plug in to the eGPU for my more graphics-intensive projects at home or at the office.
My dream of having to manage only one computer and its contents might actually be coming true!
How is it for gaming?
Since most video games are graphics processor-intensive, with more video RAM needed, you will no doubt notice a significant boost.
The Blackmagic eGPU transforms your MacBook Pro 13-inch with on-board graphics into a beast of a machine. 4GB is usually standard for playing graphics-intensive games, and since the 13-inch models have only about 0-1.5GB, the 8GB increases the detailing and smooths the graphics out (which is why Blackmagic Design boasts having up to a 10-times the improvement).
Moreover, connecting virtual reality (VR) glasses is now an option, too. The Blackmagic eGPU was designed to handle the LG 5K 27-inch display, but can also handle other displays pretty well too.
Razer Phone is so hi-tech it's hard to resist
What about panache?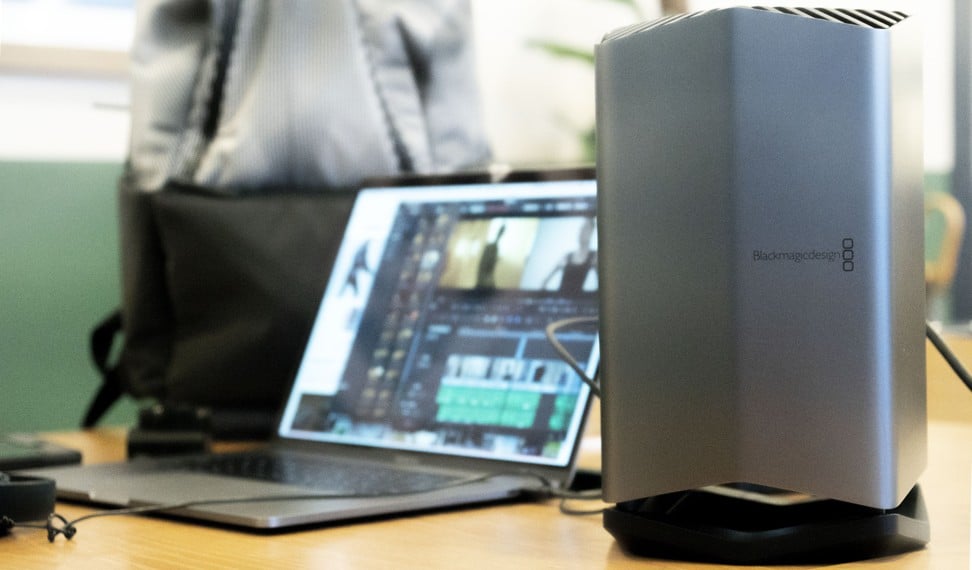 It has a sleek metal finish that feels modern. I wish it was slightly lighter (it weighs 10 pounds) and a bit less chunky – but you are not going to knock this thing over easily, like you might with a lamp.
Should it be on my wish list?
The super hard-core gamers and high-end video production houses will not be trading in their iMac Pros and LED decorated Microsoft Windows computing towers just yet.
They are still going to need and want as much horsepower as possible, and there are more affordable options to achieving the same performance or better – albeit, you will need a little more IT expertise.
However, this is a more hassle-free option, and film and commercial directors, and other creative professionals, who want to review edits or do an initial pass, will like the Blackmagic eGPU – and that means video bloggers, social media creators, and videographers who want to up their game will appreciate it too.
It has made me rethink my overall computer purchasing priorities, because the eGPU is going to extend my laptop's life, and save me the hassle of switching from computer to computer.
Want more stories like this? Sign up here. Follow STYLE on Facebook, Instagram and Twitter
Let's block ads! (Why?)